Introducing the SIM5100 UHF RFID Module: Revolutionizing Asset Management and Identification
author:2023-06-27 18:23:19
Welcome to Silion Tech, your trusted supplier of cutting-edge RFID products. We are thrilled to announce the launch of our latest innovation, the SIM5100 UHF RFID Module. With its advanced features and compact design, this module is set to transform asset management and identification processes across various industries. In this blog post, we will delve into the key features and specifications of the SIM5100, exploring its benefits and potential applications.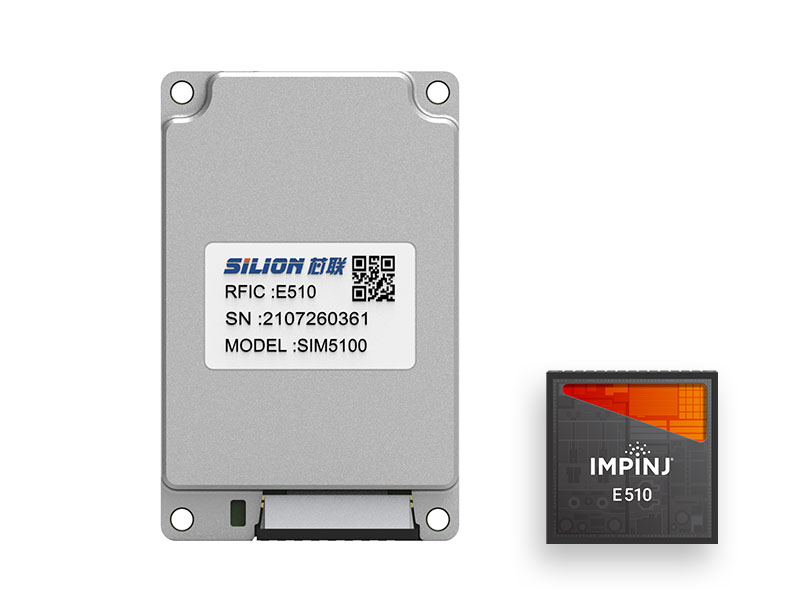 Unveiling the SIM5100 UHF RFID Module:
The SIM5100 UHF RFID Module is built on the robust Impinj E510 chip, ensuring exceptional performance and reliability. This module supports the widely adopted EPC global UHF Class 1 Gen 2 (ISO 18000-6C) standard, making it compatible with existing systems and facilitating seamless integration.
Key Features and Specifications:
Impinj E510 Chipset: The SIM5100 utilizes the powerful Impinj E510 chip, offering enhanced functionality and reliability.
RF Output: With an impressive 30/33dBm RF output, this module provides a strong and stable signal for improved read range and accuracy.
Anti-Collision Identification Algorithm: The SIM5100 employs a high-performance anti-collision identification algorithm, enabling simultaneous identification of multiple tags, optimizing efficiency, and reducing processing time.
Low Power Consumption: Designed with energy efficiency in mind, this module features low power consumption, ensuring prolonged battery life and cost savings.
Compact Size: Measuring a mere 55.9mm x 35.6mm x 6.0mm and weighing only 21g, the SIM5100 is compact and lightweight, making it ideal for integration into various devices, personnel management systems, handheld devices, and clothing asset inventory systems.
RFID Performance:
Max Read Rate: The SIM5100 boasts a maximum read rate of ≥500 tags per second, enabling swift and accurate data capture.
Max Tag Read Distance: With a 2.5dBi ceramic antenna, this module achieves a remarkable tag read distance of ≥5m, ensuring comprehensive coverage.
Communication and Interface:
UART Serial Port: The module offers a UART serial port for seamless communication with external devices.
GPIO: Equipped with 2 inputs and 2 outputs, the SIM5100 allows for flexible interaction with the host system, facilitating customized control and integration.
Application Interface:
The SIM5100 UHF RFID Module supports multiple host API languages, including C, C#/.NET, and Java, providing developers with the flexibility to create tailored solutions for their specific requirements.
Power Supply and Working Environment:
Power Supply: The module operates within an input voltage range of 3.6V to 5.0V, with a power consumption of 6.5W in RF output mode and 0.25W in standby, ensuring efficient power management.
Working Environment: Designed to withstand diverse environments, the SIM5100 operates between -25°C to +65°C and can be stored within a range of -40°C to +85°C. With a non-condensing humidity tolerance of 5-95% at +25°C, it adapts to various working conditions.
The Future of Asset Management and Identification:
With its advanced capabilities, the SIM5100 UHF RFID Module opens up endless possibilities in asset management and identification across industries. From inventory management in retail and logistics to personnel tracking in healthcare and security, this module empowers businesses to streamline operations, improve efficiency, and enhance customer experiences.
At Silion Tech, we are excited to introduce the SIM5100 UHF RFID Module, a game-changer in the realm of asset management and identification. With its exceptional features, compact size, and seamless integration capabilities, this module is set to revolutionize the way businesses track and manage their valuable assets. Embrace the future of RFID technology with Silion Tech and experience the power of the SIM5100 UHF RFID Module.