Self-service Intelligent Vending Machine
author:本站Browse times:1953
With the introduction of unmanned retail, new retail forms of multiple operating modes have emerged in the retail industry to achieve intelligence, digitalization, and convenience, while the self-service intelligent vending machine integrated with UHF RFID reader easily help retailers achieve their goals. Silion technology designed a special UHF RFID reader that is suitable for the new retail industry.
This UHF reader is integrated with the industrial computer control board, electronic lock, lock controller, UPS, and RFID reader kit, which is convenient for operating enterprises to complete the research and development of RFID self-service intelligent vending machine and refrigerator, speed up the industrial promotion and mass production, simplify the machine production process, convenient maintenance, which greatly saves the R & D time and R & D costs for retail operators.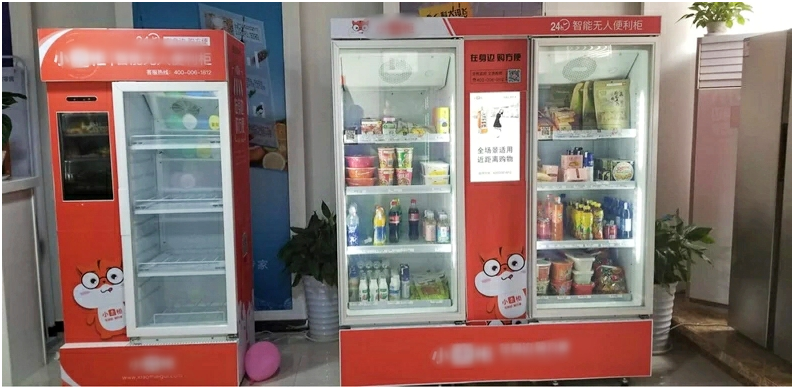 1.Self-service intelligent service
For example, the retail of food and beverages, self-service intelligent vending machine or refrigerator can be widely and conveniently deployed in many places, airports, hospitals, communities, scenic spots, etc. Consumers can unlock the machine by scanning the QR code with their mobile phone. After selecting a product, close the door, the inside UHF RFID reader will perform an inventory check, and the system will charge the product cost from the consumer's account. The whole process is convenient and fast, without the need for special service personnel on duty, to achieve self-service consumption, helping enterprises save labor costs.
2. Efficient dynamic management to provide security for goods
The RFID tags are affixed to each product, which can well implement the period management and security traceability management of the product. The operator's system can remotely monitor the product expiration date, and these data can be dynamically updated to retailers. This important information will help them make better inventory consumption decisions and replenishment schedules and reduce waste.
3. Data analysis helps make better sales strategies
Through the sales data collected by RFID reader inside each vending machine, you can easily analyze which products are hot-selling and which location is the best selling place, all these data statistics can effectively help retailers make better decisions to achieve greater sales.