SILION TECH is ready to showing the presence at Wireless IoT Tomorrow 2023 as an Exhibitor
author:2023-09-05 10:05:31
Are you ready to dive into the exciting world of wireless tech and IoT? Look no further than "Wireless IoT Tomorrow 2023" happening at the RheinMain CongressCenter near Frankfurt Airport in Wiesbaden, Germany, on October 18-19, 2023. This event promises a tech extravaganza you can't miss.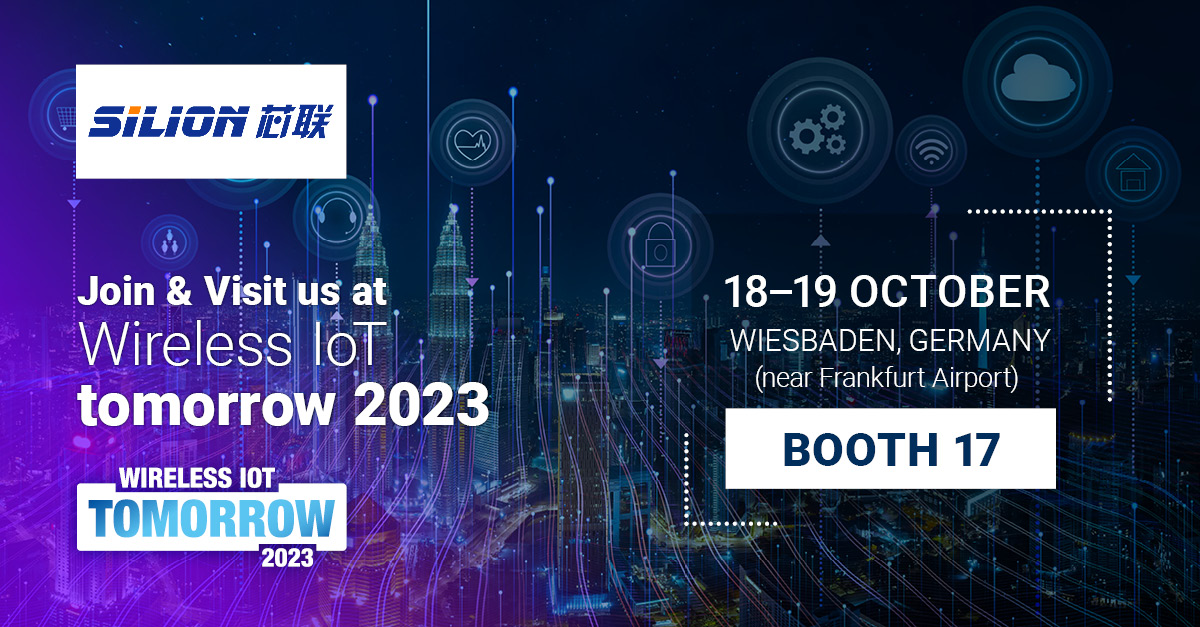 SILION TECH: Your Global RFID Solution Partner
SILION TECH isn't just a company; we're your go-to RFID solution provider worldwide. As we gear up for "Wireless IoT Tomorrow 2023," we're thrilled to announce our exhibit of RFID solutions and products.
At SILION TECH, we're all about pushing tech boundaries and connecting the world through RFID. We've got a global presence and a mission to deliver innovative RFID solutions that empower businesses, beef up security, and make processes smoother.
Booth No. 17: Your RFID Hub
When you step into "Wireless IoT Tomorrow 2023," make sure to circle Booth No. 17. This is where SILION TECH sets up shop, ready to introduce you to the RFID world. Our experts will be there to guide you through our RFID solutions, show off our latest products, and talk about how RFID can supercharge your business.
What You'll Find at Our Booth
Live Demos: Brace yourself for live demos of our RFID solutions. See how RFID can work magic in managing inventory, boosting security, and supercharging logistics.
Interactive Workshops: We're all about sharing knowledge. Join our hands-on workshops to get the lowdown on the latest RFID trends, applications, and top tips. It doesn't matter if you're an RFID pro; there's something here for everyone.
Product Showcase: Explore our lineup of RFID goodies. From UHF RFID modules to readers and slick software solutions, we've got it all. Our team will walk you through each product's ins and outs, helping you find your perfect fit.
Tailored Advice: Every business has its quirks, and we get that. Swing by our booth for a one-on-one chat about how RFID can tackle your unique challenges and help you reach your goals. We're here to listen and serve up solutions that fit you like a RFID glove.
RFID tech is the backbone of the IoT revolution. It makes devices, assets, and things talk to each other, serving up real-time data that helps you make smarter choices. With RFID, you can:
RFID smooths out processes, fixing manual labour and errors. Whether it's managing inventory or getting your supply chain in gear, RFID is a game-changer.
Keep a hawk's eye on your assets with RFID. Keep tabs on who's coming and going, track movement, and shield your precious resources.
RFID makes customer interactions a breeze. Think contactless payments and personalized shopping - RFID takes the customer experience to the next level.
In a fast-moving tech world, RFID opens doors to innovation. It's the foundation for smart cities, healthcare breakthroughs, and slick logistics advances.
Secure Your Spot Now!
Don't miss out on "Wireless IoT Tomorrow 2023 Germany." Grab your tickets by clicking this link. Join us on October 18-19, 2023, in Wiesbaden, Germany, and see the future of wireless IoT with SILION TECH.
Click me to buy the Tickets online


Stay in the Loop with SILION TECH
Keep up with all things SILION TECH by following us on social media and checking out our website. We're not just any company; we're your RFID problem-solvers. We're here to connect your business to the future.
As we count down to "Wireless IoT Tomorrow 2023 Europe," the excitement is building. We can't wait to see you at Booth No. 17. See you there!