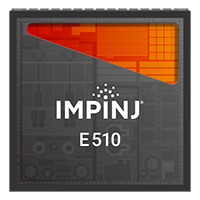 The Impinj E510 reader chip is designed for point-of-sale devices, mobile and wearable readers, smart appliances, and connected consumables. The Impinj E510 is part of a portfolio of new systems-on-chips (SoCs) built on a heritage of the Impinj Indy series that set performance standards for over a decade. Compared to the Impinj Indy R500, the Impinj E510 reader chip delivers:
High-performance receive sensitivity and up to 14 dB better receive sensitivity for reliable performance in new and emerging uses

Up to 50% lower chip power consumption, supporting battery-powered, energy-efficient IoT devices

Up to 80% smaller RAIN RFID system designs ideal for small, next-generation devices
With industry-leading system integration and easy-to-use development tools, the Impinj E510 enables the development of quick-to-market IoT devices.